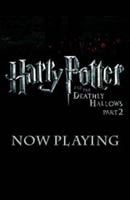 Ya, Harry Potter and the Deathly Hallows: Part 2 (Harry Potter 7B) segera ditayangkan di jaringan bioskop 21 Cineplex dan Blitz Megaplex mulai Jumat 29 Juli 2009! Akhirnya datang juga kepastian soal jadwal tayang film itu setelah Senin kemarin mengantongi status Lulus Sensor dari Lembaga Sensor Film.

Kepastian jadwal tayang itu diumumkan kedua jaringan bioskop itu via akun Twitter masing-masing pada Selasa malam (26/7). "We just got confirmation HarryPotter&DeathlyHallows Part2 will open this Friday", demikian pengumuman yang muncul via akun @blitzmegaplex milik Blitz. Tidak lama kemudian disusul oleh akun @cinema21 kepunyaan 21 Cineplex yang berseru, "Watch it first HARRY POTTER AND THE DEATHLY HALLOWS PART 2 on 29 July 2011."

Lebih lanjut, masih via akunnya, Blitz mengatakan akan ada versi 2D dan 3D lengkap dengan teks Indonesia untuk film tersebut. Sementara untuk penjualan tiketnya, Blitz baru akan memulainya pada Rabu sore (27/7).

Sedangkan pihak 21 sudah mulai melakukan penjualan tiket Harry Potter 7B itu sejak Selasa malam (26/7) khusus lewat Mobile Ticketing M-Tix, tapi hanya berlaku untuk Jabodetabek dan Bandung saja. Pembelian lewat loket bioskop mulai Rabu 27 Juli 2011, tapi lagi-lagi cuma untuk wilayah Jabodetabek dan Bandung. Kota lain? Belum jelas.