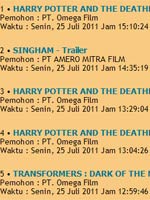 Akhirnya, dua film yang paling ditunggu sebagian besar penonton di Indonesia: Harry Potter and the Deathly Hallows: Part 2 (HP 7B) dan Transformers: Dark of the Moon (Transformers 3) mendapat cap Lulus Sensor dari Lembaga Sensor Film (LSF) sore ini! Hal itu bisa dilihat langsung di Daftar Lulus Sensor Film Import 2011 yang ada di situs web LSF, yang baru di-update lewat tengah hari tadi.

Kedua film itu sendiri sebenarnya sudah masuk proses penyensoran di LSF sejak Jumat, 15 Juli 2011 lalu secara hampir bersamaan. Melihat waktu yang dibutuhkan kedua film itu hingga lulus sensor, hal itu terbilang lumayan lama dibandingkan dengan film-film lain yang tidak jarang hanya butuh waktu kurang dari seminggu saja. Kali ini para penggemar kedua film tersebut memang perlu kesabaran ekstra.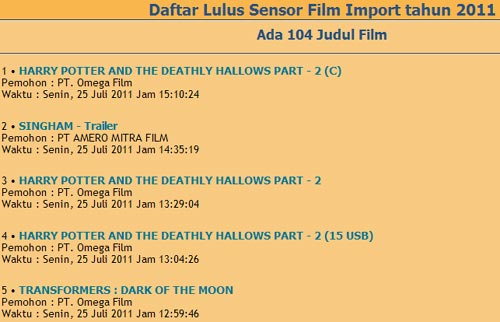 Sekarang, pertanyaannya adalah kapan HP 7B dan Transformers 3 itu akan ditayangkan di bioskop-bioskop seluruh Indonesia? Apakah langsung bareng keduanya atau satu per satu? Itu belum jelas.
Asal tahu saja, biasanya jadwal pemutaran film baru di bioskop Indonesia adalah Rabu atau Jumat. Jadi, bersiaplah untuk mengantre dalam minggu ini juga! 🙂