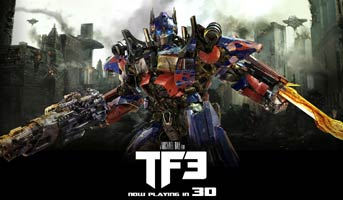 Ada kabar gembira bagi penggemar Transformers! Di hari pertama pemutaran Harry Potter and the Deathly Hallows: Part 2 (Harry Potter 7B) Jumat ini di Indonesia (29/7), beredar kabar terbaru soal jadwal tayang Transformers: Dark of the Moon (Transformers 3).

Kemungkinan besar "Transformers 3" akan ditayangkan pada hari Jumat, 5 Agustus 2011 mendatang di 21 Cineplex dan Blitz Megaplex. Informasi tersebut disampaikan lewat akun Twitter masing–masing dari kedua jaringan bioskop itu. Bersiaplah!
Asal tahu saja, di banyak negara lain, sebenarnya film "Transformers 3" lebih dulu ditayangkan sebelum "Harry Potter 7B". Jika yang terjadi di sini malah sebaliknya mungkin karena pertimbangan komersial, mengingat kedua film tersebut datang dan lulus sensor Lembaga Sensor Film bersamaan.